Welcome to the web site of Rosemary Aitken
Author based in Cornwall UK
Rosemary Aitken - also writing as Rosemary Rowe and Brenda Lacey
The Cornish Sagas
Absorbing stories of a tin-mining community
The village of "Penvarris" in Cornwall is the setting for this series of books. more >>>>>>
A Cornish Maid
From Penvarris With Love
The Girl from Penvarris
The Tinner's Daughter
Cornish Harvest
Stormy Waters
The Silent Shore
The Granite Cliffs
Against the Tide
The Tregenza Girls
Flowers for Miss Pengelly - New!!
Roman Whodunnits
Libertus Mysteries of Roman Britain
The series is set in Roman Britain in the period between 183 and 190 AD, when the increasingly unbalanced Emperor Commodus wore the Imperial Purple and ruled the Empire with a capricious hand. more >>>>>>
Brenda Lacey books
Light romantic novels - available on Kindle
Moonlight over Malta
Sunshine on Spetse
Text Books
English as a Foreign Language
Rosemary Aitken had twenty years experience in training teachers in English as a Foreign or Second Language, (sometimes called EFL or ESOL), and after winning a English Speaking Union prize for a paper on Teaching Listening Comprehension wrote a number of highly-acclaimed text-books in the field. more >>>>>>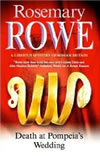 Literary Reviews
"The Girl from Penvarris" - ' superb novel. . . an enthralling Cornish saga'
Thank you for visiting my web site!